Mission Statement
Our mission is to provide pallets and pallet transportation solutions to our customers with an emphasis on maintaining affordable rates for our services.

Types of Pallets
GMA Pallets:
The closest thing there is to a pallet standard is a 48″ x 40″ 4-Way Flush hardwood pallet, otherwise referred to as the GMA (Grocery Manufacturer Association) spec pallet. These are commonly used in the grocery, food, consumer packaged goods, and agriculture industries.
Reconditioned GMA Grading Types:
Grade #1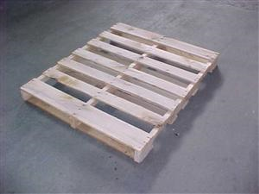 Typically this is a GMA repaired to close to its original condition. Broken stringers may have been replaced or repaired with metal plates, typically a maximum of only 1. All damaged deck boards are replaced. This is a fairly clean pallet that is structurally sound.

Grade #2

Typically this is a GMA which has had stringer damage that has been repaired by attaching an additional stringer along side the damaged one. This is commonly referred to as a companion stringer, sister stringer, or double stringer.

Grade #2 pallets may have multiple repaired stringers and/or plates.